The true definition of "giving gift" based on social psychological theory is "Voluntarily Transferred" which means exchanging something for special occasions with out expectation of return.
เลือกของขวัญที่บกบอกความใสใจของคุณ และมอบให้คนที่คุณรัก เลือกกระเช้าของขวัญ และ ชุดของขวัญ WISH
ติดต่อขอรับ Catalogue ได้ที่ >> LINE: @wish.in.th
Here's our well-selected lists of treats and drinks appropriate
for sending as a gift to your beloved one(s).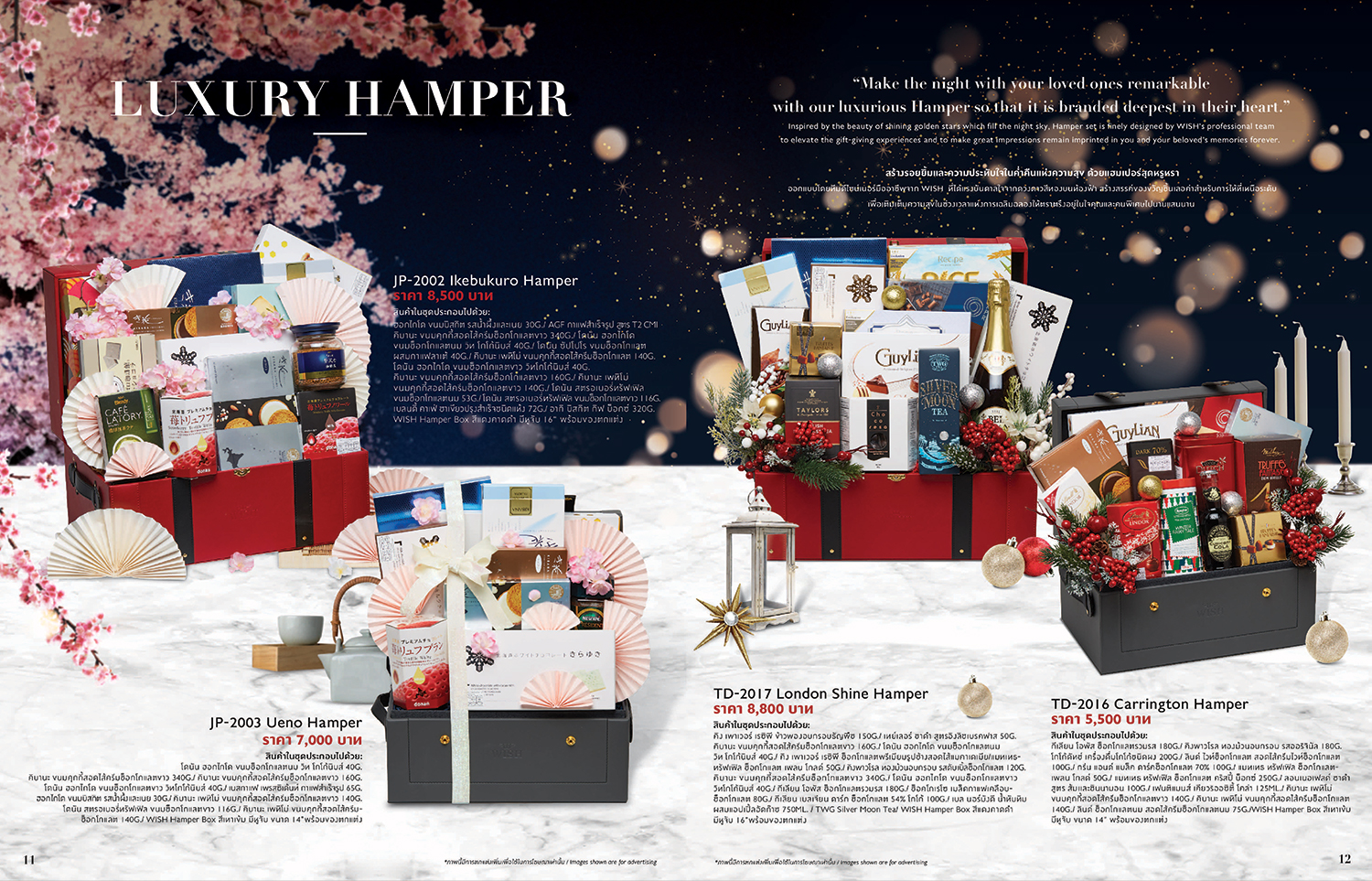 Luxury Hampers Collection
Make the night with your loved ones remarkable with our luxurious Hamper so that it is branded deepest in their heart. Inspired by the beauty of shining golden stars which fill the night sky, Hamper set is finely designed by WISH's professional team to elevate the gift-giving experiences and to make great impressions remain imprinted in you and your beloved's memories forever.
สร้างรอยยิ้มและความประทับใจในค่ำคืนแห่งความสุข ด้วยแฮมเปอร์สุดหรูหรา ออกแบบโดยทีมดีไซน์เนอร์มืออาชีพจาก WISH ที่ได้แรงบันดาลใจจากดวงดาวสีทองบนท้องฟ้า สร้างสรรค์ของขวัญชิ้นเลอค่าสำหรับการให้ที่เหนือระดับ เพื่อเติมเต็มความสุขในช่วงเวลาแห่งการเฉลิมฉลองให้ตราตรึงอยู่ในใจคุณและคนพิเศษไปนานแสนนาน
Good health is everyone's desire, with true care.
WISH would like your special ones to have physical health and emotional well-being by providing a variety of nutritious food, snacks and organic products delicately arranged in our aesthetic basket. Perfect for all healthy lovers and to give as a healthy food gift for great benefits to your loved ones' health and heart.
สุขภาพดีเป็นสิ่งที่ทุกคนปรารถนา เช่นเดียวกับ WISH ที่อยากดูแลคนใกล้ชิดคุณให้มีสุขภาพกายที่แข็งแรงและมีสุขภาพใจที่สดใส WISH จึงได้รวบรวมผลิตภัณฑ์อาหาร ขนมขบเคี้ยว และผลิตภัณฑ์ออแกนิคที่ดีต่อสุขภาพหลากหลายรูปแบบ จัดเป็นกระเช้าของขวัญแห่งความปรารถนาดีที่เหมาะสำหรับผู้ที่ห่วงใยสุขภาพและต้องการมอบของขวัญเพื่อสุขภาพที่มีประโยชน์ต่อร่างกายและมีคุณค่าต่อจิตใจให้แก่คนที่คุณรัก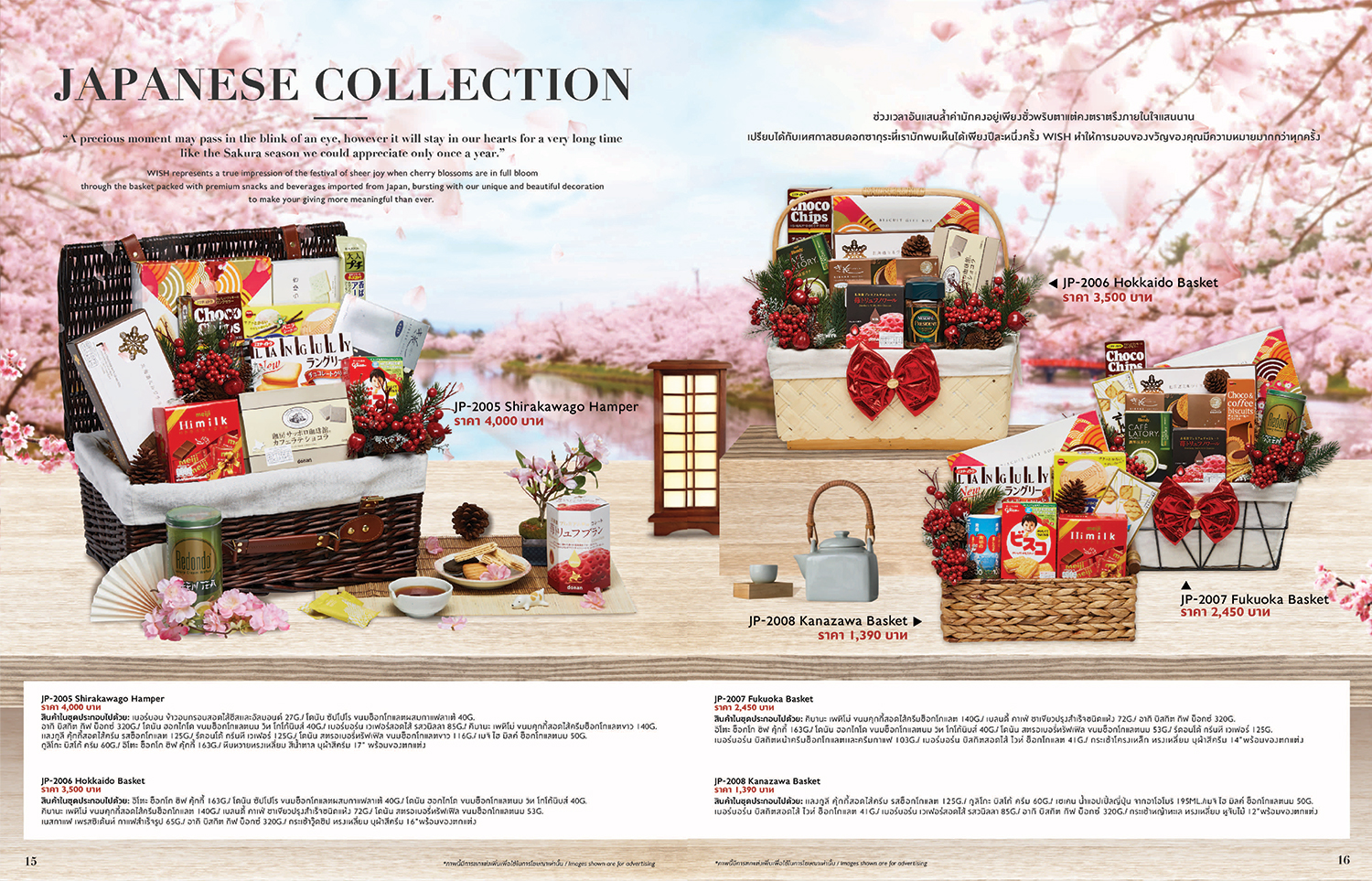 A precious moment may pass in the blink of an eye, however it will stay in our hearts for a very long time like the Sakura season we could appreciate only once a year. WiSH represents a true impression of the festival of sheer joy when cherry blossoms are in full bloom through the basket packed with premium snacks and beverages imported from Japan, bursting with our unique and beautiful decoration to make your giving more meaningful than ever.
ช่วงเวลาอันแสนล้ำค่ามักคงอยู่เพียงชั่วพริบตาแต่คงตราตรึงภายในใจแสนนาน เปรียบได้กับเทศกาลชมดอกซากุระที่เรามักพบเห็นได้เพียงปีละหนึ่งครั้ง WiSH ทำให้การมอบของขวัญของคุณมีความหมายมากกว่าทุกครั้ง
Home is always a place where you feel all the love, warmth and good hope. WiSH's recreation of home set comes with a modern yet well-decorated house-shape basket. Plenty of high-quality products are fine-selected by us and served to your special ones. Let WiSH be part of your wish to keep your relationship stronger and last forever like a house that is full of joy, love, and hope.
บ้านก็เปรียบเสมือนที่ที่รวบรวมไว้ทั้งความรักและความหวังดี และกระเช้าของขวัญนี้ที่รวบรวมไว้ทั้งผลิตภัณฑ์ต่าง ๆ ที่เราเลือกมาอย่างดี ไม่ว่าจะเป็นช็อกโกแลตเกรดพรีเมี่ยม รวมถึงเครื่องดื่มชาและขนมต่าง ๆ ที่ล้วนแต่มีคุณค่าต่อคุณและคนที่คุณรักอย่างแท้จริง